Pavilion ELT Live! Challenges and change in ELT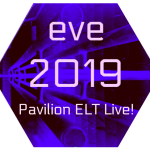 Date: 22 June 2019
Venue: ORT House, London
⇩ Download full event guide (PDF)
View on-screen fill event guide in a page turner
Pavilion ELT Live, London was our 4th Live! event – a one-day conference packed with seminars, interactive workshops, lively debate and networking opportunities. The conference gave delegates the opportunity to evaluate their own teaching practice, discuss the latest teaching trends and advances, and learn about new ways to incorporate different teaching techniques and methodology into their teaching.
The one-day programme consisted of three strands, to fit a variety of teaching contexts:
Experiential professional development
Debunking the myths
At the chalkface – what really works in practice.
Please find slides from the presentations below.
Downloadable presentations
Talk Number
Theme
Title of Talk
Presenter
Introduction
Conference delegate participation
The Solution Room
Kirsten Holt
Download
An interactive session of participation, peer learning and targeted problem solving.

---

1.1
Experiential professional development
Becoming a Teacher-Researcher
Chris Farrell
Download
This talk looked at some of the first steps a teacher can take towards becoming a teacher-researcher. We looked at the role of reflective inquiry and how this can be structured both by individual teachers and the institution. We also looked at the role of creating a clear structure in lessons through the use of learning outcomes, success criteria, and different assessment techniques, in order to better frame the evidence gathering from your lesson. This session was designed to appeal to teachers interested in learning more about their own teaching, or getting involved in action research.

---

1.2
Debunking the myth
Ten rule breaks to teach vocabulary to the many not the few
Fiona Mauchline
Download1
Download2
When looking at vocabulary teaching, training courses and teacher development tend to focus on lexical forms, rules, and effective but generic methodology. Don't translate; Drills and 'listen & repeat' are ineffective; Use coloured images and so on. But, truly effective vocabulary teaching also needs to be inclusive, and consider the diverse spectrum of students you might have in the room. In this participative session, we bent the 'rules' a little to look at 10 tips for maximising vocabulary learning with multilingual students, students with hearing or sight impairment, colour-blind, and dyslexic students. Because one-size doesn't fit all.

---

1.3
At the chalkface (what works in practice)
Letting the Students Choose
Kate Smook
Download
The standard pattern of English language summer schools for teenagers is English lessons in the morning and the 'fun' activities in the afternoon. For teachers this can mean that keeping students engaged and motivated can be a challenge. This presentation gave participants the chance to explore the potential benefits of letting students choose when and how they study English through the introduction of a flexible student-centred timetable.

---

Plenary 1
Debunking the myth
Fact or myth? Using the brain in ELT practice
Carol Lethaby
Download
This interactive plenary considered some common beliefs about the brain and language teaching that neuroscientists consider to be 'neuromyths'. There were some surprises! We looked at how common misconceptions about the brain and how it works may be affecting classroom practice and student learning. Using teaching examples, it was argued that the latest neuroscientific research can help teachers: firstly, to recognize and avoid classroom practices based on mistaken ideas about how we learn; and secondly, to apply recent findings about the brain in order to enhance and validate good teaching practice.

---

Plenary 2
Debunking the myth
Break the Mould! Adapting and Innovating in the Face of Change
Jacqueline Kassteen
Download
Human behaviour has changed drastically in the last few decades, and critics are quick to point out that the education industry isn't keeping up. As pressure mounts and enrolments teeter, it becomes crucial to innovate in order to not only survive, but thrive. In this plenary, Jacqueline shared tips, techniques and various strategies participants could use to overcome the challenges of today and position their brand for growth in 2020 and beyond. She gave compelling examples of brands who had restructured their business, introduced new products or services, changed the student experience, and used powerful marketing methods – all as a response to their changing environment as well as standing out in a competitive market. Participants went away with ideas of how to apply a new way of thinking to their brand; educational offering; marketing; and even their relationships with students, partners, staff, and academics.

---

2.1
Experiential professional development
Ten steps to CPD success
Fiona Dunlop & Keith Harding
Download1
Download2
When it comes to professional development are you a gong-gatherer, a guru-groupie, a lone star, a team-player or just a brick? There are many different ways of developing in ELT. In this workshop participants explored some of them together and discussed the contexts in which they can flourish and the support systems required to make CPD successful, sustainable and satisfying for all.

---

2.2a
Debunking the myth
Why teaching skills means teaching nothing
Hugh Dellar
Download
The idea of that English-language teachers should be attempting to teach receptive skills is both widely accepted and deeply embedded in our profession. However, research offers little in support of the concept of skills training – and neither classroom experience nor students' own needs add any further weight to the idea that skills are useful, teachable or even possible to define. In this short talk, Hugh argued that we need to re-consider the purpose of listening and reading texts in the classroom and re-connect so-called skills-based lessons to language teaching.

---

2.2b
Debunking the myth
Why the grammar syllabus at low levels makes no sense
Andrew Walkley
Download
The syllabus at beginner and elementary levels is incredibly standardised across different global general English coursebooks. In this talk Andrew explained why that is, the principles that underlie the syllabus and why both those principles and the syllabus should be challenged and changed. He also drew on some examples from his teaching and writing that point to an alternative approach.

---

2.3
At the chalkface (what works in practice)
Teaching interpersonal skills for better communication
Chia Suan Chong
Download
Have you ever met the kind of student who might have excellent grammar and vocabulary but simply can't communicate well? Perhaps they're not good at building rapport, struggle with disagreement or find teamwork difficult. While many coursebooks offer functional language for disagreeing or starting conversations, what they don't address, however, is the communication skills they need. How much do they know about their communication style? How do they persuade and influence people? How do they break the ice at a first meeting? This workshop explored how we can help students reflect and become better at communicating in English.

---

3.1
Experiential professional development
Materials: from ideas to reality – and beyond
Susan Holden
Download
Most teachers use some form of materials: their own, adapted, or provided by a publisher. And yet the ways in which those materials come about, how they are influenced and shaped, and how the original idea may be adapted and modified during the creative and productive processes, are often little known. Using practical examples and participants' own experiences, this workshop discussed the role of colleagues and editors – as well as market forces – in materials development, and went on to explore ways in which materials evaluation can form part of training programmes.

---

3.2
Debunking the myth
Putting the human centre stage in the classroom
Mark Almond
Download
This practical workshop looked beyond mainstream language teaching methodology and enquired how and why teachers can apply a number of principles found in certain other practices and theories and adopt a more multi-disciplinary approach in the classroom. These areas include: Flow Theory (Csikszentmihalyi), Politeness and Face Theory (Brown and Levinson; Goffman) and Neuro Linguistic Programming (Grinder). Through a range of theatre-based activities, participants considered how educators working in any sector can practically apply these to the art of teaching, thereby helping them to improve classroom climate, group dynamics, teacher presence and rapport.

---

3.3
At the chalkface (what works in practice)
21st century skills. Have we been doing them right all along?
Christopher Graham
Download
21st century skills are increasingly appearing in ELT course books and syllabuses around the world, in some cases to the concern of the teachers that need to deliver them. In this talk participants explored how 21st century skills can be developed and supported not only by teaching them through integration with the language work, but also by putting them into practice through our classroom methodology. And that by doing this, participants felt better about the role of 21 century skills in their classes.